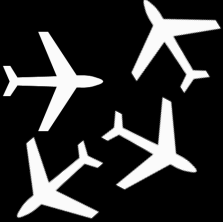 I decided to see if DeKalb Taylor Municipal Airport has made progress in growing its non-governmental revenues now that it has added fuel sales and new tenants.
Below is a table showing the primary revenue category, rentals, along with the newbie, fuel sales. These are not the only non-governmental revenues, but the remainder combined don't normally top $20,000.
[table id=58 /]
Hangar rentals seem to have recovered from a slump and, assuming the FY2012 estimate and FY2013 projection are accurate, rental income is now showing some growth.
Fuel sales are expected to net $43,750 this year. Will that kind of revenue take-off cover the compensation of the employees they've hired to pump fuel? Let's look.
[table id=59 /]
According to annual budget narratives, they hired two part-timers in FY2012 and are hiring four more in FY2013, AND they have a half-time maintenance employee out there. I would suspect the calculated amount for these seven part-timers is incorrect and that the answer to whether the fuel sales are covering the costs of providing the service is "no," but if you can't trust what's in the adopted, published, official budget what can you trust?
Mind you, the revenues earned through sales charges and user fees are rather piddling when you consider the airport operating budget alone is a million bucks a year. Annual transfers have come from General Fund, Water Fund and even TIF to keep things going over the years.
Transfer totals generally run $250,000-$370,000, but some years larger transfusions are required — most recently $2.14 million to wipe out the FY2011 deficit — primarily because government grants require local matches. This year, the planned GF transfer is $328,750.
Within this context, DTMA is pretty much still spinning its wheels revenue-wise.
And from an FY2011 standpoint, it is difficult not to connect that $2.14 million transfer with the layoffs of 20 Public Works employees.