There's another special city council meeting, specifically a budget meeting, set for this evening. It's apparently a follow-up of what they discussed last week.
On Thursday, the council held a joint meeting with the finance advisory committee to outline a proposed 5 percent reduction in city department budgets for fiscal 2018. This equates to nine full-time positions and 11 part-time positions being dropped and nearly $20 million being cut.
I watched the joint council-FAC meeting that the newspaper is referring to, and it did not look like there was much cutting of staff happening. With few exceptions, department heads talked about cutting expenses in a one-off manner. For example, they suggested simply not contributing the usual $12,000 to IHSA this year, and cutting non-critical training, and putting off purchases of equipment and software. In other words, the show was pretty much the same juggling act they do every year.
The problem is simple to explain. The city only has so much in revenues, and at this point in time, they've been growing at the rate of about 2-1/2% a year at best. However, expenses have grown well past these modest organic increases, especially personnel expenses (wages, insurance, pensions, etc.), which make up 80% of the operations (General Fund) budget.
Because personnel take up 80% of the operations budget, and because each full-time hire impacts several personnel line items (and one or two contractual ones as well), the best way to limit increases in expenditure growth is to limit hires, and the best way to cut expenses dramatically is to cut personnel.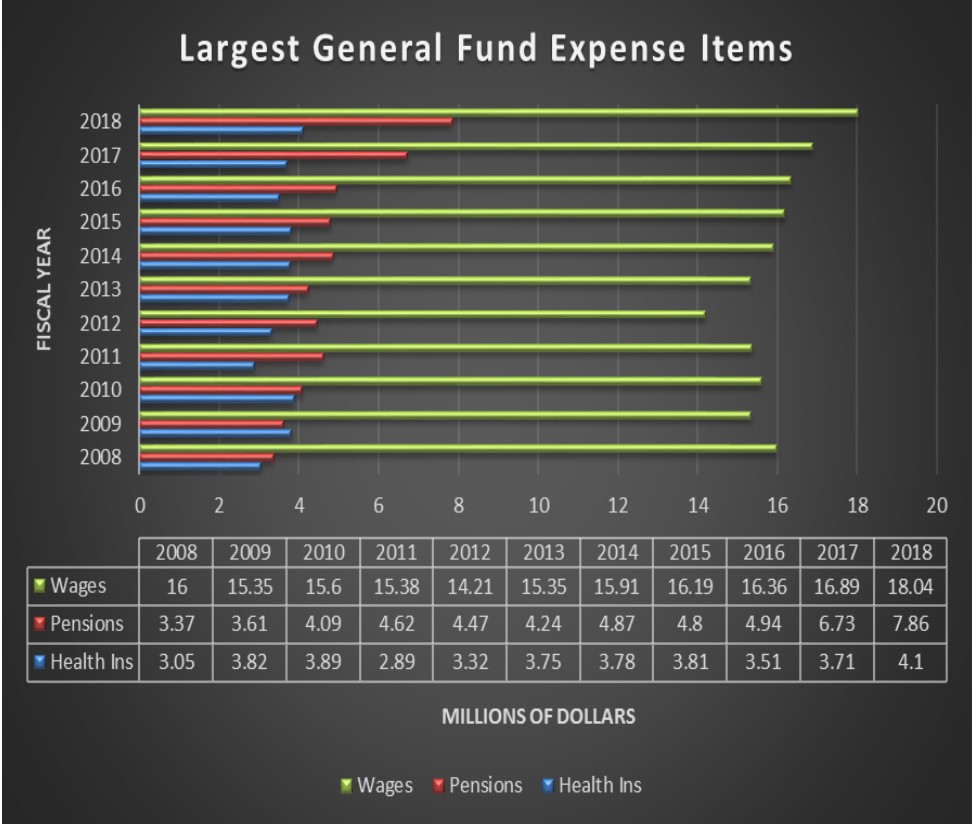 By the way, the chart makes it look like they were getting a grip on things in FY16, but the real story is that the city moved $560,000 in personnel expenses from the General Fund to the Water Fund. Though the move made sense (assuming that all the personnel now covered by the Water Fund actually work for the water utility), it has also helped conceal the extent of the hiring going on during city manager Anne Marie Gaura's tenure.
The FY18 numbers are, of course, only projections of what staff want at this point. The city council has the last say. But as they stand now, wages would grow from FY17 to FY18 by $650,000, or 6.8%, while personnel costs on the whole would rise by $2.76 million, or 9.8%. These expenses are clearly unsustainable.