Sometime during the six-hour-long regular city council meeting last Monday, the mayor asserted that the city attorney works for the city council. This is incorrect information, and the real story must be understood NOW to help people understand why the city might have just placed potential litigation with the county on the table.
Exhibit A: DeKalb's organizational chart (from the proposed fiscal 2018 budget).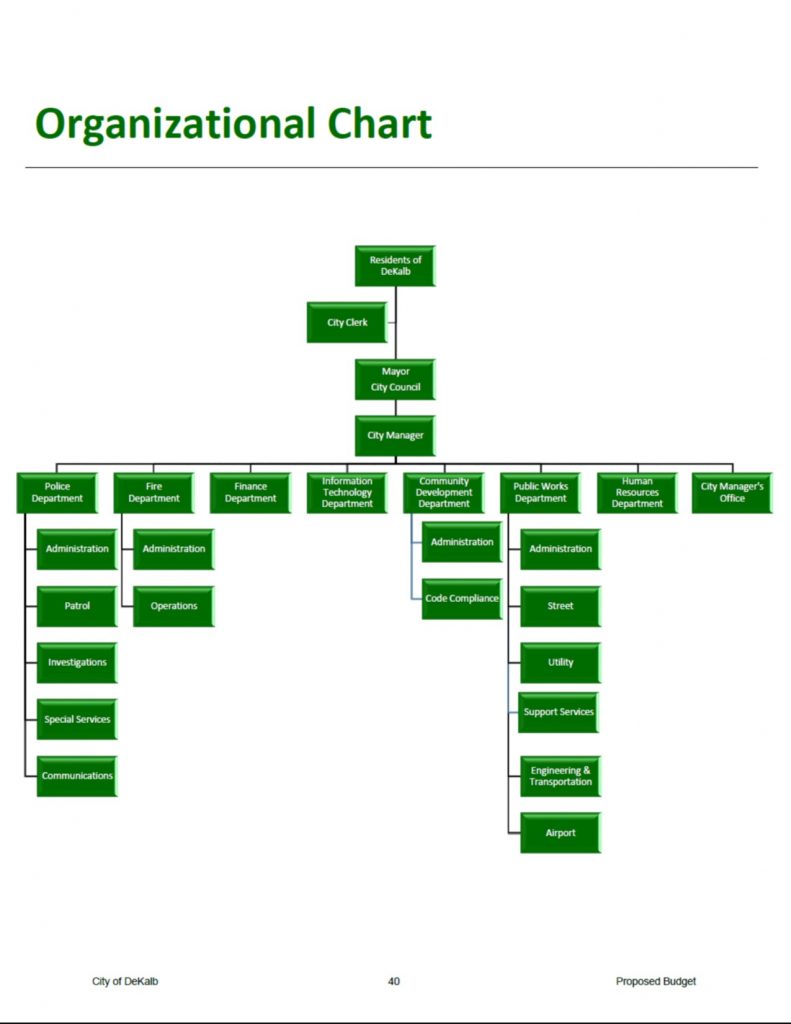 If the city attorney worked for city council, he'd show up in a relationship to city council. But he doesn't. The city attorney is a contractor who — as all contractors do at this point — work for city manager Anne Marie Gaura. And let me tell you, it's a very close working relationship.
Exhibit B: City manager Anne Marie Gaura shares an employee with the city attorney.
The position was called "legal assistant" until the person in that position retired last year. The new person is called "administrative assistant" but still has a job description that requires assisting the city attorney. Trouble is, the assistance is not allowed by DeKalb's contract with the city attorney.
Exhibit C: Third page of DeKalb city attorney Dean Frieders' contract with City of DeKalb.
"…Contractor is exclusively responsible for the determination of what work is required to complete the tasks…and for the means and methods of completing such work." "Contractor shall be responsible for its' [sic] own personnel, training, instruction and related matters."
See what I mean? City attorney and city manager are so close, the attorney's contract with the city is no obstacle to this cozy job-sharing arrangement.
This same disregard of roles, responsibilities, and contracts has led the dynamic duo into working on a questionable revenue enhancement to help bring the proposed fiscal 2018 budget into balance. The enhancement would come from the city's unilateral ending of a long-running tax-sharing intergovernmental agreement with DeKalb County. The city manager tasked the city's financial advisory committee to come up with a recommendation, which it did. The FAC, with the facts as presented by the city manager, gave a green light to the move.
Nobody clued in the city council.
The city council was the last to know about this scheme.
The city council was the last to know, and is now being led to consider litigation with the county, which has long been a partner in mutually-beneficial pursuits in economic development.
All so that city manager Anne Marie Gaura can balance next year's budget.
So Mayor Smith, if you really want an attorney that represents council, you and council will need to hire someone else.
—————————————————-
City Barbs Facebook Group discussion of the post is here.