The main thing you need to know is that DeKalb Public Library made promises to DeKalb property taxpayers in 2015, and now is considering breaking its promises. But I couldn't resist putting together some FAQs for anyone who might like more details.
How much did the expansion cost?
Total cost was $25.3 million. At center was an $11.6 million Illinois State Library construction grant, along with funding from a mix of public sources (e.g., TIF funds from City of DeKalb), loans, and private donations to DeKalb Public Library (DKPL). State grants involve a local match, so part of the non-grant funding covered the local share. Non-grant funding also paid for extras that were not eligible to be covered by the grant.
What was the delay of grant funding about?
The library construction grant is released in four stages based on percentage of construction completed. If a portion of a grant isn't released during a given fiscal year, it must be re-appropriated the following year. The library received chunks of the grant at 30% and 60% project completion, but release of monies for 90% and 100% completion were delayed during Illinois' budget impasse. The outstanding amounts, totaling $4.6 million, couldn't be re-appropriated until passage of another state budget.
Was there a real danger that the grant money would never be released to the library?
Probably not. According to DKPL, the state had already issued bonds specific to the construction grants, so they couldn't be used for anything else. It was just a matter of re-appropriation when Illinois started passing budgets again. The immediate threat was a shutdown if the library couldn't find a way to keep construction going. A shutdown of any length would have been expensive in its own right.
Why has controversy cropped up now?
In January, the state released the rest of the grant except for a final installment of $1.1 million. With millions now in the bank, DKPL faces the decision to keep the money or to keep its promises of 2015. At issue is abatement/rebate of some $971,000 back to property taxpayers, and the removal of the emergency property tax levy of $500,000. People who attended library board's recent special meeting saw the board "leaning" toward remitting only a partial rebate and keeping the levy for operations. Either action would break a promise.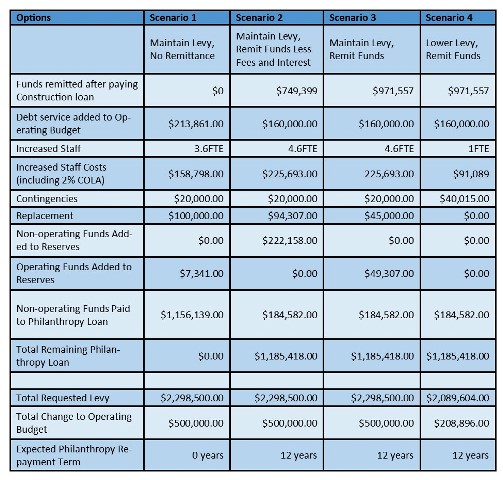 Were there alternatives to a bank loan, and/or a property tax levy increase to cover it? Continue reading Going deeper on DeKalb Public Library's expansion and promises